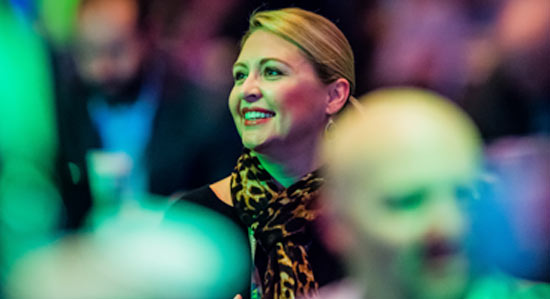 Push us. Amaze us. Inspire us.
Careers in Sales
Innovation is the essence of our brand. Our top-performing sales professionals help our customers—across all industries—revolutionize their businesses to thrive in the digital era by leveraging the power of software. We create exceptional end-user experiences and build customer trust.
Are you ready to work with some of the best and most innovative products on the market?
Country Manager New Zealand
Auckland, New Zealand
Apply Now
Job ID R1902423-1
Job Overview
The Country Manager is responsible for building and leading vmware's business in New Zealand. The role, acting as the front-line executive for vmware is focused on leading a team of sales individuals consisting of both commercial and enterprise sales team members with additional matrix responsibility for the growth of the partner ecosystem and cloud business.
Responsibilities
NZ Market Leadership
VMware is a market leader and has experienced strong growth both globally and in Australia. Your primary responsibility will be to replicate and exceed this growth with specific focus to drive growth in the non-VCPP Enterprise and Commercial business in NZ.
You will be a frontline hands-on leader, building, developing and manage a commercial and enterprise sales team, taking responsibility for driving new business and developing the territory to its highest potential.
You will create and execute collaborative engagements between partners and customers to drive incremental revenue, strong relationships and high levels of customer satisfaction whilst maintaining alignment with the ANZ business strategies.
You will work hand in hand with the Commerical Sales leaders, to implement the commercial sales strategies in the region driving double digit growth in market.
You will be instrumental driving and hosting C level customer events and actively engaged with press and analysts in market to redefine perceptions and deepen relationships with our key customers and partners.
You work to establish and position vmware as a thought leader in the market by driving team collaboration with internal resources such as technical, channel, marketing, and professional services to support customer needs, sales strategy and overall business growth.
You drive C-Level engagement with vmware's top go to market partners in NZ.
Building the Business
You build a diverse and inclusive culture that epitomizes vmare's EPIC values. 
You facilitate exciting collaborative engagements with our partner ecosystem, exploring and creating new opportunities for growth through deep partner engagement and co-selling engagements.
You drive, develop and deliver with your sales team, unsolicited proposals to our enterprise and commercial customers that deliver true business value and support their digital transformation journey.
You drive deep engagement with key partners and vendors to drive pipeline and greater customer momentum.  Specifically meeting monthly with key partners.
You manage T&E expenses in line with budgets.  Ensuring strict compliance with corporate guidelines and policies.
Sales Candance  
You drive regular communication and review with sales team members on account strategies, forecasts, and sales strategies while supporting the team through customer engagements.
Specifically attend and participate in a minimum of 8 face to face customer meetings per week, including weekly coverage of both Auckland and Wellington based customers.
You develop and maintain senior relationships (C level) in named Enterprise accounts and key Commercial accounts in NZ.
You ensure your team deliver exceptional account plans for all key accounts, which facilitates documented account call plans for each customer facing meeting and guides the deal evolution to a successful outcome.
You deliver exceptional SFDC forecasting discipline and are personally involved and have detailed knowledge of key opportunities in your territory.
You are exceptional at developing a forward looking, accurate and transparent pipeline four quarters out.
You follow, act as coach and drive the use of Value Selling sales methodologies delivering
In collaboration with the Channel Leaders coaching the channel team to enable them to grow vmware expertise within the partner communities.
Required experience and demonstrable competencies
Experience
5-10 years' experience building, leading and managing successful sales teams to achieve high growth initiatives and revenue goals in a fast paced, highly competitive, matrixed and ever-changing sales environment.
Expertise, achieving business objectives within Applications, Enterprise Management or Cloud with a minor in Compute, Network, Storage and domain experience selling in the Datacenter Space.
Exhibits sufficient sales and business acumen, credibility and presence to enable effective relationship building, influencing and instilling confidence at all business levels
Proven ability to network with LOB leader, CxO and engage at all levels in Enterprise & Commercial accounts across IT, Operations, AppOps/Dev-admin for the purposes of solution selling and articulating vmware strategic vision
Experience in managing relationships and influencing in both customer and Channel driven sales environments and complex global alliances
Experience operating in a Channel/ SISO driven sales environment with complex global alliances
Experience selling complex solutions, requiring implementation, integration and Professional Services to execute
Experience building demand with cycle times of 6-24 months
Experience in managing relationships and influence within a customer and with external third parties that formulate a customer's strategic thinking and actions
Strong experience leading a multi-functional team in complex engagements
Proven experience in business analysis, planning and management including P&L responsibilities.
High levels of energy, drive and commitment, combined with excellent written and verbal communication skills.
Competencies
Account Management and Partner Management Planning
Acts as a thought leader and partner with the customer in account planning effort.
Call strategies align with account plans and remain focused on customer business challenges; Consistently adapts pre-sale plan strategy to meet specific needs and objectives of both parties
Business Industry Acumen
Able to articulate the basics of finance, marketing, and operations and consistently leverages insights while selling; Maintains a comprehensive understanding of technology trends, including predominant industry challenges, key players, business process, and competitive information

Has a comprehensive understanding of the implications of new issues and trends in technology; has resources to access outside of vmware to stay abreast of trends; has the ability to translate local and global trends/developments into insights for the customer

Understands all key financial metrics important to customers, partners and vmware; understands customer's financial business model and budget planning processes and consistently makes recommendations based on that understanding

Strong understanding of vmware partner organizations and their relationships with vmware
Effective Communication including Presentation Skills
Effectively engages c-suite executive -level customer stakeholders; Masters the active listening skills by capturing all customer's points of view, ensuring they are heard and understood; Effectively communicates customer's requests
Always prepares and delivers professional presentations; explains complex transactional structures to both technically inclined and non-technically inclined audiences; expresses ideas and points of view in written documents in a clear, well-structured, and concise manner; asks well-informed questions and follow-up questions in order to gain a deeper understanding of the customer; reads body language and other non -verbal cues and adjusts approach accordingly.
Comfortable using tools (Zoom, Whiteboard, MS Word, IM, email, Skype, etc.) to communicate with customers.
Influencing & Negotiation
Leads negotiations. Ensures each negotiation contributes to strengthening the customer relationship.  Develops plans for customer negotiations.  Has clear expectations on both parties' best case, realistic, and walk-away positions.

Handles all objections and conflicts well.  Addresses competitive negotiators effectively and is consistently successful in coming to amenable resolutions.  Rarely escalates problems.

Develops and maintains good relationships with business decision makers at the 'C' suite level. 
Executive Engagement
Has a strong understanding of the goals/objectives of relevant executives; effectively researches executive stakeholders.
Able to elevate vmware's relationships with relevant executives.
Customer Service
Handles customer questions and issues well and reacts to reported problems quickly; consistently takes appropriate actions to resolve problems; consistently takes ownership of customer issues and maintains positive customer satisfaction relative to problem resolution

Quickly identifies customer problems and passes request to relevant internal parties; Consistently follows-up in a timely manner and stays focused; identifies key prospects within customers and partners to be VMware champions
Solution Selling
Creates client specific/marketplace sales presentations with a specific focus around value to the client against their business objectives
Drives, recruits, builds and manages 'virtual team' - and orchestrating resource for maximum solution benefit; Designs solutions built around long-term commercial frameworks and within value selling sales methodologies.
Creates customer case studies and contributes to the creation of customer reference documentation
Coaching
Able to guide effective strategic planning through good observations, listening and questioning. 
Through good observations, listening and questioning, able to trigger multiple ideas/solutions and breakthrough thinking.
Through good observations, listening and questioning, able to (a) guide the coachee to diagnose root causes of his own performance gaps, (b) guide coachee to create developmental opportunities to address these areas, and (c) monitors development progress.
Teamwork
Seeks active cooperation with others ensuring goal alignment with relevant parties; takes initiative and takes responsibility for shared goals.
Teaches others how to work through disagreements using conflict resolution and interest-based techniques. 
Consistently recognises the work of others and provides feedback with suggestions for improvements.
Supports and fosters a diverse and inclusive workforce.
Your saved jobs
You have not saved any jobs.
Recently viewed opportunities
You have not viewed any jobs.