Global Support
Harness the power of technology to deliver in–depth technical expertise and support to VMware customers worldwide.
Delivering World-Class Customer Support
Our goal is to deliver a world class proactive and personalized customer support experience and learn from every interaction that we have with our customers.

We are harnessing the power of technology to allow our customers to quickly self-solve and underpinning this with in-depth technical expertise of human assisted support for urgent and complex issues.
Global Success Teams
Technical Support
Available 24x7, Technical Support helps customers and partners when they run into issues with their VMware solutions.
Support Services
Support Services focuses on providing the best in class Licensing, Entitlement Account, Education services support, SaaS & Subscription, Partner and Customer Service support to VMware global teams and customers.
Escalations
The high performing 24/7 Global Services Regional Escalation team acts as ambassadors to our customers, advocate for them and align stakeholders through clear, consistent communication.
Strategy & Operations
The Strategy and Operations team ensures Global Support is set up for success and continues to drive toward achieving its transformation goals.
Critical Accounts Program (CAP)
CAP is a program designed for rapid engagement to mobilize required resources to ensure stability for our most important clients when normal processes are unsuccessful.
Meet members of Customer Success
I have over 30 years of multi-functional experience in the Software Industry with core competence in enterprise Customer Support and Service. I am currently heading the Global Technical Support division at VMware and I am responsible for delivering high levels of customer satisfaction while achieving technological excellence, financial, and employee satisfaction, and other operational commitments.
Shekar Ganapathy
VP Global Support - Compute and Management
I am responsible for leading multiple customer-facing teams with the goal of providing an exceptional support experience to VMware's customers. During my 10+ years at VMware, I have held various leadership roles within the global support organization and hold an extensive background in launching and scaling diverse global teams with attention to customer needs and employees' success.
Alex Obikhod
VP Global Support, Strategic Customer Engagements
I have been working in the IT/Telco industry for the past 23 years. In 2014 I made the leap of faith into the world of Technical Support here at VMware. "Getting things done" is what drives me, solving both customer and business issues really motivates me. I wear a number of hats at VMware including chief of staff for Global Support and global leader for our Support Specialist Team. In my spare time I like to work on old cars, and I am a keen sports fan.
Mark Fitzgerald
Senior Director Global Support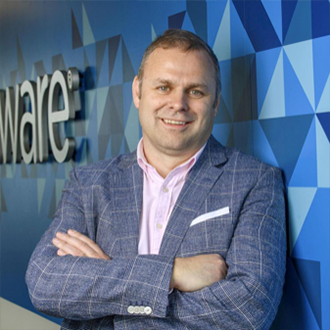 "For me, the most exciting thing about working at VMware Global Support is that you get introduced to different Customers with different Cultures on daily basis. So, by the end of the day, you find yourself exploring the world while working from home on your computer".
Heba Naguib
Associate Customer Success Manager
"Being a part of VMware's GS support operation for the past 8 years has provided me with the opportunity to see/experience what makes VMware the company that it is. Both personally and professionally VMware is committed to making a difference one engagement at a time for our customers and team members."
Jim Wardell
Technical Support Manager
"I can arrange my day around my family life and VMware have always made this happen seamlessly."
John O'Donovan
Senior Staff Technical Support Engineer
"I like to resolve issues that our customers are facing. In the process of resolving issues, we can acquire new technical skills and knowledge, and we can further contribute to our customers."
Naoto Koarai
Senior Technical Support Engineer
"Being a part of a core technical team keeps me busy and on toes. I believe the organization as a whole understands its employee needs someone like me who is a young mother who and has to balance work And home together. The role gives me freedom to take a breather undergo training or connect with my leadership 1:1 who understand and keep me motived all the time."
Nivedita Das
Senior Technical Support Engineer
"Working for VMware's Global Support team is like being in the center of the Universe of Cloud Computing. Why is that? Because every day you work with all kinds of incredible and challenging technologies, many developed by VMware, but from other companies out there too, that power the world and help companies and organizations to achieve their business goals, whether it is to keep people safe and healthy, or to explore the vast space outside of our little planet."
Pablo Sibaja
Technical Account Manager
"With the power of human difference, Global Support employees come from all around the world and serve customers globally. I am very proud of being part of VMware Global Support. Global Support provides yearly training and education to keep my skillset sharp."
Ruilin Tian
GSS Academy - Technical Support - Professional
"The most exciting part about working in VMware Global Support is helping to solve various customer issues. The range and complexity of the technical problems that I help solve makes each day exciting and different."
Stacee Maushart
Senior Escalation Manager
Learn More About VMware
Interview Process
VMware is committed to a welcoming, accessible interview experience that showcases your greatest accomplishments, diverse set of skills, motivations and strengths.
EXPLORE INTERVIEW PROCESS >
Career Development
With diverse learning platforms and experiences designed to amplify your career, you are in control of your professional growth and development.
EXPLORE CAREER DEVELOPMENT >
Benefits
We are proud to offer you and your family a comprehensive list of benefits that are among the best in the industry.
EXPLORE BENEFITS >
Join Our Talent Community
Are you interested in staying up-to-date on the latest career opportunities, recruiting events, and company news at VMware? The VMware Talent Community is the place for you to do just that.
Join Our Talent Community