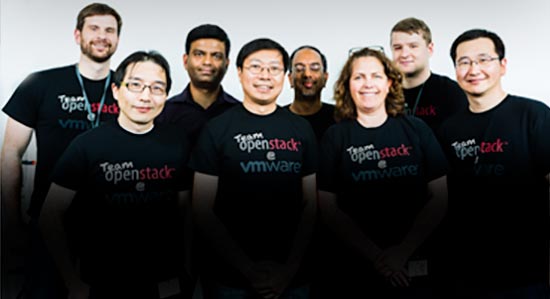 Engineering and Technology
As an engineer at VMware, coming to work means creating something new and better together every day. Our employees' energy, expertise, and ingenuity have enabled us to revolutionize the way companies manage and operate their IT systems, and helped make it possible to work from anywhere, anytime, without sacrificing security.
We are intellectual mavericks, pioneers, game-changers, and doers of the extraordinary, on a mission to create cloud, mobility, and virtualization solutions that will reach millions of users around the world. Are you ready to join us?
Solving Challenges Through Innovation
Inspired by the drive, passion, and intellectual curiosity our people have for technology, we have committed to providing an environment that inspires them in return. More than just a workplace, VMware functions as a community, where our people are empowered to succeed and are valued for their innovative contributions.
Within our Network and Security team, we're building the kind of systems that traditionally have been embedded in proprietary network hardware, but we're building them as software running anywhere in the datacenter. This creates unique challenges to how you create highly available and scalable systems. Because this is infrastructure, the availability requirements are quite different, and so we're solving new problems in distributed systems.
In our Management Systems organization, we focus on developing value-driven platforms that are lightweight, flexible and scalable. I've worked on challenging projects, including microservice-based architecture that has the potential to change the hybrid cloud computing landscape. Our team embraces open source technologies and frameworks that we contribute back to the community.
CLOSE

THIS SECTION
Creating Value for Our Customers
With more than 500,000 customers who trust VMware as their virtualization infrastructure platform, our people dare to use their passion and talents to develop solutions for our customers' hardest challenges.
Through customer interactions, I learn and understand how our products are an integral part of how our customers do their job. Desktops and applications are critical infrastructure of any company's IT organization. l feel a great responsibility to deliver value to allow our customers to do their jobs better. Our customers' success is our success.
VMware's company values are execution, passion, integrity, customers, and community. We live those values during our development process by building the features that customers need, getting their feedback early and often, and designing the product in a way that simplifies customer lives and gives them confidence in our product.
As a part of the Quality Engineering team, I like that each of us is encouraged to voice our opinions and be a champion for our customers. I have a strong passion for quality, and being customers' advocate for quality, simplicity, and ease of product usage has given me immense satisfaction.
CLOSE

THIS SECTION
Working in a Collaborative Culture
At VMware, our people are like family. Every day, we challenge each other to do our very best, are always willing to help one another, and are constantly learning from each other, which creates remarkable results.
I have been leading key integration areas of VMware's Software Defined Data Center product suite and interacting with customers. I am able to deliver high-quality work and maintain my work-life balance. My work has never stopped me from taking care of my family's needs. I'm a mother of two kids, and I can still get high visibility and make an impact.
The technology we've worked on has been paradigm-shifting for the industry, as well as full of interesting puzzles to figure out. There is something amazing that happens when you get some of the brightest engineers in the industry together working on hard and relevant problems.
The whole floor is like an extended team. You can walk to anyone and get your questions answered right away! Co-workers are there to help — always. All you have to do is show the willingness to take up a new challenge and you have it. We are all constantly learning from each other here.
CLOSE

THIS SECTION
Relevant Jobs
Sorry, there are currently no new opportunities near your current location. Try a new search.